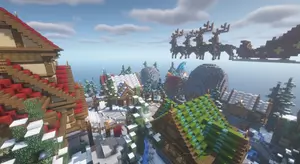 Prison Neptune CHRISTMAS MAP - Monday, December 26th @ 3PM EST!
news
Hey everyone! We are super excited to announce the Christmas map of OPLegends Prison! Unlike many other servers, we are introducing tons of Christmas and Winter themed content to our Prison server to make this the #1 destination for you this winter!‌‌
Release Date & Time
We are releasing Prison Neptune Map 5 Monday, December 26th at 3PM EST.
Universe Lineup
Last map, we ran 4 universes, which many believed to be too much at one time. We agree, and we are making this map a 3 universe lineup with a total gang size of 9 members.
The three universes this time are:
Mine: The classic mine experience you know and love!
Farm: The farm you love with all of the glitches and bugs fixed!
Arctic: A brand new, winter wonderland universe with tons of Christmas-themed enchants and a really unique snow mechanic!
Gangs will be **9 members **this map.
Arctic Universe
This map, we are introducing a **brand-new Arctic Universe. **This winter-themed wonderland is a limited-time universe just for this map to celebrate the holidays!
This universe consists of shoveling snow, and there is a very unique snow-stacking mechanic you can optimize to get the most beacons! The higher your snow towers get, the more beacons you get when they collapse.
There are over 10 enchants to this universe which will be revealed in the coming days up to the reset in our Discord!
Farm Improvements
With the farm, we have completely overhauled this Universe. There have been lots of complaints with enchants like Seed Eruption, Flood, and Steady Harvesting, so we have gone through and fixed all issues that have been reported.
Battle Pass Improvements
We have changed battle pass rewards to be based on the universe you are in when starting the challenges. This should help make challenges more relevant to the universe you play!
Tool Parity
All tools now have pickaxe skins, crystals, leveling, and key finder enchants! These changes should help make all universes first-class destinations for you to play.
Christmas Theming
We have also added a christmas themed spawn, reskinned lucky blocks as presents, and added Arctic christmas armor!
Ascension Revamp
Ascensions have been buffed and are now more valuable!